SMEDG - OLD NOTICES ARCHIVE 2002
SMEDG-AIG Christmas Sydney Harbour Cruise
Friday, 20th December, 2002 12.50 p.m. from McMahons Point,1.00 p.m. Opera House - until 5 p.m. Thanks to our Sponsors...... Rangott Mineral Exploration...ALS Chemex...Kingsgate Consolidated...Phelps Dodge Australia
The Booking Form has appeared as promised. Click. Book early for Xmas 2002 and send $55.00 per person. Preference will be given to SMEDG'ers and AIG members
NEUTRONS FOR EARTH SCIENCES WORKSHOP ANSTO, LUCAS HEIGHTS, 12-13 DECEMBER 2002
On the 12th and 13th of December 2002 a workshop will be held at ANSTO, Lucas Heights to discuss the neutron-beam instrumentation for Australia's Replacement Research Reactor. The workshop will discuss the scientific applications of neutrons to the earth sciences, demonstrate the applications of neutron science to earth scientists from Australian industry, government and universities and make a start on defining specifications for instrumentation and sample-environment apparatus at the Replacement Research Reactor. Attendees will include: Andrew Gleadow (University of Melbourne), Ian Madsen (CSIRO-Minerals), Mike Middleton (Curtin University), John Parise (SUNY - Stony Brook, USA), Allan Pring (South Australian Museum), Andrzej Radlinski (Geoscience Australia), Simon Redfern (ANU and Cambridge University), Brian Spies (ANSTO) and Yusheng Zhao (Los Alamos, USA). For more information contact Rob Robinson (Workshop Convener) or Tel: + 61-2-9717-9204 Reports from previous neutron workshops in other disciplines. This site also has a link to the Earth Science Workshop and an on-line registration form.

St Barbara's Day
at the Saigon Pearl, West Street, North Sydney Friday, 6 December 2002 at 12.15 pm Good turnout of over 30 enthusiasts - an eclectic collection of your industry's finest!
Sydney Mining Club Home Page at SMEDG
Gympie Gold CEO Harry Adams Thursday, 5th December, 2002 Tattersall's Club - Sydney
Sydney Mining Club Meeting Thursday, 7th November, 2002
Reg Gersteling
Reg Gersteling, geologist and SMEDG supporter, passed away in October. We extend our sympathy to Reg's family and his wide circle of friends.
SMEDG-AIG with ASEG (NSW Branch) Symposium - held 11th October 2002 "Exploration in the Shadow of the Headframe: Getting a New Life on Lease"
Friday, 11th October, 2002. SHORE, Blue Street, North Sydney
Preambulating Fable and Call for Speakers and Sponsors, Trade Displayers and Posterers
NEXT MEETING:
DATE: Thursday October 3rd 2002 TIME: 12:30pm SPEAKERS: Oxiana CEO Owen Hegarty & Pan Aust CEO Gary Stafford VENUE: The Tattersalls Club, 181 Elizabeth Street, Sydney Dress - Tie and jacket no longer required but show some refinement..... TOPIC: "Success, Gold-Copper & the Frontiers of Laos"
DETAILS:
CALAMITY!
The Malaya Restuarant closed on Friday, the 27th September. The Malaya has been home to the North Sydney mining and exploration fraternity for 28 years and the 1pm Friday lunches will be no more......until Neryl, Trudy and Bill get something new going. The core group (MIGNS*) was there, as usual, for Lunch at 1pm and then for the finale - Dinner at 7pm. Pictures were taken & will appear here. We have the turtles.... *MIGNS - Mineral Industry Group North Sydney, a close relative and affiliate of the St.Barbara's Day collective whose members are equally distraught.
ANNOUNCING THE BIRTH OF 'MEGWA' AIG Western Australia has recently given birth to a daughter - Megwa!
Note: Late news item - Private investigations into the identity of the father failed to find one and a rumor is circulating that despite the recent Federal Parliament decisions on theraputic cloning, the child is actually a clone of SMEDG. The fact that a previous SMEDG committee member has moved to Perth and is now on the new committee there is considered by Federal Police to be 'suspicious'. The Christening ceremony is to be held on Tuesday 17th September at Kings Park Tennis Club at 5:30 for 6:00pm (sounds suspiciously familiar doesn't it) where John Davis and Ian Morrison will talk on 'The Jaguar Discovery, South of Teutonic Bore' CONGRATULATIONS TO ALL INVOLVED - It's about time!
Applied Structural Geology for Mineral Exploration and Mining
Australian Institute of Geoscientists International Symposium - KALGOORLIE 2002 23rd to 25th September 2002 WMC Conference Centre WA School of Mines Kalgoorlie, Western Australia.
Australian Institute of Geoscientists - Website
ASEG (NSW Branch) Meeting - Wednesday, 18th September, 2002 5:30pm for 6:00pm meeting 18 Sept. - Rugby Club - Rugby Place (Circular Quay)
"Falcon(TM) Airborne Gravity"
Phil Harmon
Cheers, - Mike Moore ASEG - NSW BRANCH - SECRETARY: email: moorem@minerals.nsw.gov.au ph: +61 2 9901 8398
Sydney Mining Club - Notice of Meeting
Kerry Harmanis - Jubilee Mines & David Moore - Mincor Resources "The New Nickel Tigers"
12.30pm, Thursday, September 5th - Tattersalls Club
Jobs! Now all Filled for August Recent graduates and 1-2 year geologists wanted in North Queensland! Gnew Gnomes! Or if you're a Gnome from the past, and want to get in touch - e-mail here or visit the Gnomic Website
Sydney Mining Club - Meeting - August 1 - Anaconda CEO Peter Johnston
GEOSCIENCE 2002: Expanding Horizons
Geological Society of Australia 16th Australian Geological Convention 1 - 5 July 2002 Adelaide Convention Centre Adelaide, South Australia
SYDNEY RESOURCES SEMINAR: GROWTH STORIES FOR TODAY Sydney - 10th July 2002 11am - 6pm The Wentworth Hotel, Brisbane Room, 61-101 Phillip Street, Sydney
Click here to open Program and Speakers Page
This free, one-day seminar features eleven Australian resource companies and presents an excellent opportunity for Investors, Fund Managers and Brokers to hear about new developments in the resource sector. If planning to attend, please use free call 1800 99 01 99 to enable the organisers, Jan Hope and Partners, to keep track of the numbers for catering purposes.
NEXT MEETING:
DATE: Thursday July 4th, 2002 TIME: 12:30pm SPEAKER: Newcrest CEO Tony Palmer VENUE: The Tattersalls Club, 181 Elizabeth Street, Sydney Dress - Tie and jacket no longer required but let's not forget who we are..... TOPIC: "Newcrest - the Australian Survivor Gets Growing" DETAILS: Notice of Meeting
SMEDG welcomes its newest Committee Member - - the wonderful Vicki Diemar - geologist, wife and mother. Vicki has recently taken a breather from Kingsgate having been an integral part of the team that created the Chatree Gold Project in Thailand.
Thanks to our Sponsors:
Anderson Drilling, ALS Chemex and H&S - Hellman and Schofield
Sydney Mining Club - June Meeting Ticor's Rod Ruston, Austpac's Mike Turbott and BeMaX's Stephen Everett "Australian Titanium Investment Futures!"
Notice
CONGRATULATIONS! Welcome to Tessa McDonald - born 23rd May 2002 - Lex and Simon's fourth little girl.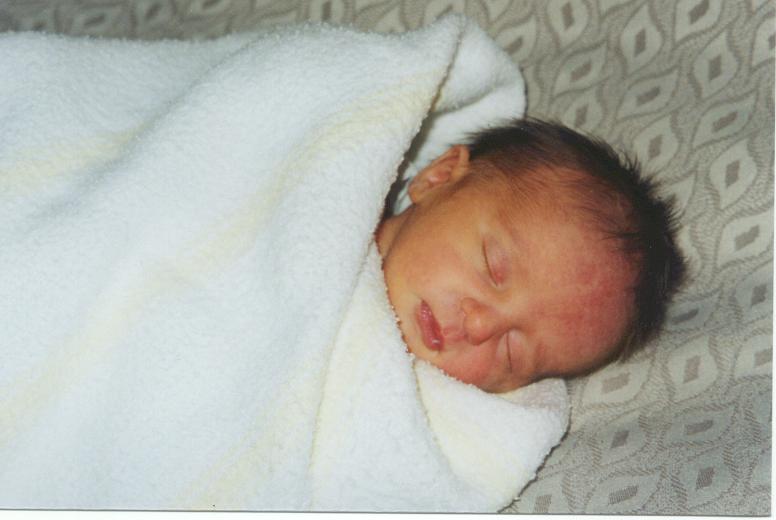 Exploration NSW Information Release - Forum & Event
10.30am, Theatrette, Parliament House, Thursday, 23rd May Forum Flyer .pdf LUNCHEON Details from Helen Hajduk & 'Phone: +61 2 9901 8518 It's not just the data presentations - time to catch up with colleagues
& then go on to the
Australian Institute of Geoscientists
ANNUAL GENERAL MEETING 6.00 pm, Thursday, May 23rd, 2002 The Rugby Club Rugby Place (formerly Crane Place) between George and Pitt Streets, near Circular Quay, SYDNEY
Australian Institute of Geoscientists - Website
Contact Greg Corbett - AIG President 2002. Tel. (61 2) 9959 3060 Fax (61 2) 9954 4834 CGS
MAY MEETING:
DATE: Thursday May 2nd 2002 TIME: 12:30pm SPEAKER: Campbell Anderson - Chairman - Southern Pacific Petroleum VENUE: The Tattersalls Club, 181 Elizabeth Street, Sydney TOPIC: "Greenpeace vs. the Future of Australian Oilshale"
DETAILS:
Presentation Images & Presentation Text

Australia's "Exploration Hotspots" Conference
Speakers, Topics & Registration on Adobe Acrobat .pdf
May 1 & 2, 2002 Dockside - Cockle Bay Wharf - SYDNEY
Joe Schifano won the $2300 registration to this Conference by cracking SMEDG COMPETITION #4 Here's Joe at "Exploration Strategies" checking out, with great prescience, Golden Cross's Kempfield Project! 2nd Prize, now with a bottle of red wine thrown in (arguably even more valuable) is still up for grabs!!!
Society of Economic Geologists GLOBAL EXPLORATION 2002
DATE - April 14 - 16, 2002 LOCATION - DENVER, COLORADO THEME - "Global Exploration - Integrated Methods for Discovery"
MEETING:
DATE: Thursday April 4th 2002 TIME: 12:30pm SPEAKER: Derek Carter - Minotaur Resources CEO VENUE: The Tattersalls Club, 181 Elizabeth Street, Sydney TOPIC: "Bull on the Run - Minotaur's Spectacular Mount Woods" DETAILS: Notice of Meeting
MEETING:
DATE: Thursday March 14th 2002 TIME: 12:30pm SPEAKER: Sino Mining Executive Chairman - Nick Curtis VENUE: The Tattersalls Club, 181 Elizabeth Street, Sydney Dress - Tie and jacket no longer required but let's not forget..."the clothes maketh the person"..... TOPIC: "Sino is China's First Mining Foreign Investment Success" DETAILS: Notice of Meeting
GSA NSW Division - NEXT MEETING Prof. Ron Vernon (Macquarie University) "Migmatites and Granites - Recent Ideas" Wednesday, 13th March 2002, 6 pm
Venue: School of Geosciences Edgeworth David Building - University of Sydney Pre-meeting drinks at 5.30 pm Further details can be found on the Division's web page
ASEG (NSW Branch) Meeting - Wednesday, 20th February, 2002
Salinity - Mixing Politics with Pico-Teslas
Dr Andy Green
NOTICE OF MEETING
DATE - Tuesday, 12th February 2002 TIME - 7:30 for 8:00pm - Drinks available SPEAKER - Greg Corbett VENUE - Apple City Motor Inn - Bathurst Road, Orange TOPIC - "Epithermal Gold for Explorationists"
NEXT MEETING:
DATE: Thursday, February 7th, 2002 TIME: 12:30pm SPEAKER: Kumba Resources CEO - Con Fauconnier VENUE: The Tattersalls Club, 181 Elizabeth Street, Sydney TOPIC: "Iscor to Kumba, the Amazing South African Transformation" DETAILS & BOOKING FORM: