SMEDG - OLD NOTICES ARCHIVE 2003
SMEDG-AIG Christmas Sydney Harbour Cruise
Friday, 19th December, 2003 12.50 p.m. from McMahons Point,1.00 p.m. Opera House - until 5 p.m.
Thanks to our Sponsors...... Placer Dome Asia Pacific...ALS Chemex...ENCOM
The
Booking Form
click here. Book early for the Xmas 2003 Sydney Harbour Cruise Early Bird over - now $55.00 per person. Preference will be given to SMEDG'ers, AIG & SMC members.
St Barbara's Day
at the Saigon Pearl, West Street, North Sydney Friday, 5 December 2003 at 12.15 pm This event attracts an eclectic collection of your industry's finest!
Details Here
Sydney Mining Club Lunch Professor Geoffrey Blainey speaks on "Mining and the Outback Reflections & the Future" Tattersalls Club, 12.15 p.m. Thursday 4th December, 2003 BOOKING FORM
Exploration NSW Information Release - Forum & Event
10.00am, Theatrette, Parliament House, Wednesday, 3rd December

Forum Flyer .pdf
LUNCHEON RSVP & details from Mick May & 'Phone: +61 2 9901 8491 It's not just the data presentations - it's a great time to catch up with colleagues.
UNSW Mining Research Centre School of Mining Engineering University of New South Wales 5-day short courses
MINERAL ECONOMICS AND COMMODITY MARKETING
10 – 14 November, 2003
Details - click here
SMEDG - MIGNS - GODC Lunch Meeting in Memory of Paul Riddell Collaroy - Sunday, 26th October 2003
E-mail to send me your P.A.R. anecdotes and reminiscences
Mineral Industry Group North Sydney - Getty Oil Development Company
Geological Society of Australia Public Lecture series, 2003 The Australian Museum - 6 College Street, Sydney Monday, 20th October, 6pm
MAKING AUSTRALIA: landscape, climate and tectonics
"Exploration In Asia - Put a Tiger in your Tenement"
The SMEDG-AIG Symposium 2003
Friday, October 10th 2003 at Shore, North Sydney Speakers and their Papers, Sponsors, Trade Displays, Posters Symposium Programme - Speakers and Papers Committee Chairman Phil Hellman Phone: +61 2 9858 3863
"Weathering - It Happens, Like it or Not!"
Prof Graham Taylor (University of Canberra)
Geological Society of Australia - NSW Division - J.J. Frankel Lecture Wednesday, 17th September 2003, 6pm UNSW - School of BEES Details from Geological Society of Australia - NSW Division
AIMEX Mining Equipment Exhibition
You could have registered online or call 61 2 9211 7455 for FREE entry to the largest mining equipment exhibition in Australia - AIMEX. It was held at the Showground at Homebush, 9 - 12 September and entry was free. The AusIMM Mining Risk Management Conference was run in parallel with this major event.
LionOre MD - Mark Ashley
Thursday, September 4th at 12.30pm - Tattersalls Club
Geoff Derrick has organised another of his excellent Mount Isa Geotours for 2003.
August 21st to 27th All the geology and mine visits Geoff can organise.
Details on the Flyer - Click here
and email Geoff Derrick for details Geoff's Keynote Paper for the Mount Isa Symposium - 1993.
Paul A. Riddell 1922 - 2003
Paul Riddell passed away in Salt Lake City in August 2003. Paul will be remembered fondly in Australia as a most delightful and capable head of Getty Oil Development Company based in Sydney. Paul and Jackie lived here from 1972 until 1979, made many friends and were missed by all of us when they returned to Salt Lake City.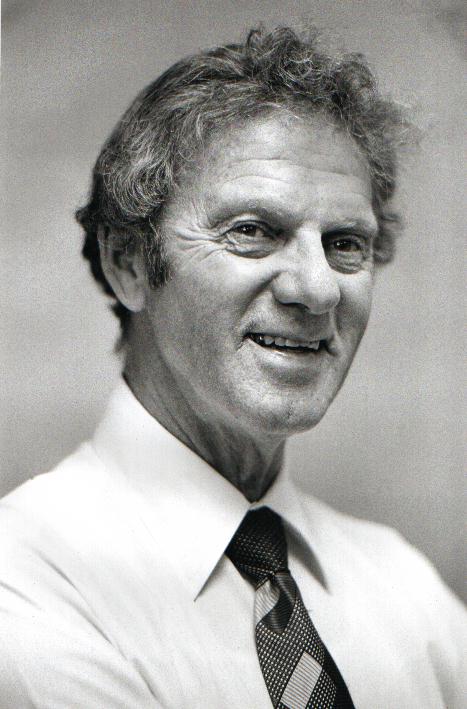 E-mail to send your P.A.R. anecdotes and reminiscences
Submission by The Australian Geoscience Council Senate Inquiry into Higher Education Funding .pdf - click here
ASEG, in conjunction with SMEDG, AIG & AusIMM present: Nick Sheard soon to be late of MIM & Xstrata Rugby Club, Wednesday 20th August, 5.30 p.m.
Minerals Exploration Action Agenda (MEAA) - A Discussion
Ballarat Goldfields' CEO Richard Laufmann Tattersalls Club - Thursday 14th August, 2003.
Magmas to Mineralisation - Granites and Associated Metallogenesis THE ISHIHARA SYMPOSIUM
July 22nd to 24th, 2003 GEMOC Macquarie University
Broken Hill Entertainment Centre July 7-9, 2003
2003 Mid-Year Harbour Cruise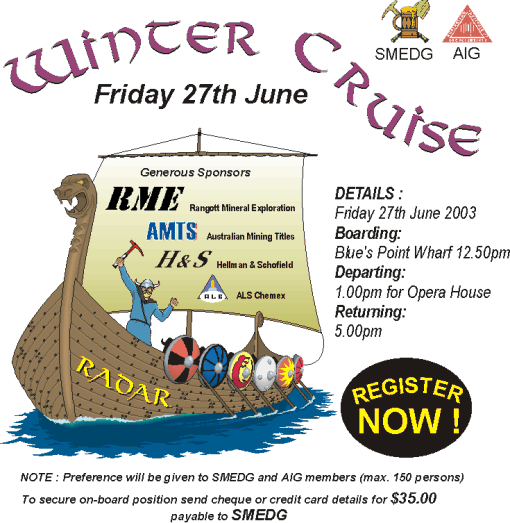 Mid Year 2003 CRUISE Photos (1-28)
Mid Year 2003 CRUISE Photos (29-38)

Seabed Hydrothermal Systems of the Western Pacific
Current Research and New Directions 25th - 26th June 2003 CSIRO Riverside Auditorium Riverside Corporate Park North Ryde 2113
Click here for Details and Registration - or visit the CSIRO WEB SITE
The SMEDG-Exploration NSW Data Release for the Cargelligo, Goulburn and Lachlan Fold Belt Projects
Thursday 19th June 2003 from 4:30 to 7pm. to be held at the Anzac Club, Cammeray
RSVP to Lynne Fletcher Ph: +61 2 9901 8214
More information? Contact Lindsay Gilligan Ph: +61 2 9901 8301
The event was presented at no cost to registrants. Thanks from SMEDG and the 60+ attendees to NSW DMR for the excellent presentations and refreshments.
AIG - Queensland Branch AIG AGM and dinner for 11th June 2003 Guest Speaker – Ian Morrison – Kagara Zinc & Lantana Exploration "Kagara Zinc Ltd ---- From Float to Production and Beyond"
MIGNS
LUNCH AT THE KUALI MALAYSIAN RESTAURANT, 1ST FLOOR, 115 LONGUEVILLE ROAD, LANE COVE 1 p.m. Friday, 6th June, 2003 Convenor: 0418 440 838
Mineral Industry Group North Sydney
Newmont's Australian MD John Dow Thursday, June 5th
Upcoming Australian Geographic Lecture Mount Everest Revisited
3 June, 7.30 p.m. Terrey Hills, Sydney. Greg Mortimer, mountaineer and geologist
On the 50th anniversary of Edmund Hillary's ascent of Mt Everest, the first Australian to this summit, Greg Mortimer, relives his historic climb of 1984 and many adventures since. This will be an evening of sheer inspiration with one of Australia's greatest - and most modest - adventurers. Join us at the Australian Geographic Centre Theatre, 321 Mona Vale Rd, Terrey Hills at 7.30 p.m. Tickets $15. All proceeds to the non-profit Australian Geographic Society. Click here to book directly online or phone 1300 555 176
AIG Annual General Meeting
The speaker was Dr. David Denham on "Future of Geoscience in Australia" Rugby Club at 5:30 on Thursday 29th May - Drinks and Buffet provided
NSW MINERAL EXPLORATION & INVESTMENT 2003 CONFERENCE
Thurs 22 & Fri 23 May 2003 Four Seasons Hotel (former Regent), 199 George Street, Sydney The Department of Mineral Resources hosted its major biennial conference "NSW Mineral Exploration & Investment 2003" on 22-23 May 2003. Here's a Link to the Conference Website with an overview of the conference, preliminary program for both days and registration.
Full details of this meeting, entitled "Vancouver 2003 - On the Edge: Earth Science at North America's Western Margin" can be viewed via this hyperlink. The Technical Program, from May 25-28, 2003, covered all major aspects of the earth sciences and emphasized the construction and evolution of the North American Cordillera and its geological resources.
"The Bottom of the Harbour and Bass Canyon Revealed Using Swath-Mapping Data and Fledermaus Visualization" Jock Keene, Associate Professor, School of Geosciences, University of Sydney AusIMM Meeting 14th May 2003 - The Rugby Club, Rugby Place, off 31A Pitt Street, CBD 5.30 for 6.00 pm
Mineral Exploration Action Agenda - Draft Recommendations Prepared by the Strategic Leaders Group - Comments sought from Industry
SMEDG COMPETITION NUMBER 5
A COPY OF GEOFF DERRICK'S CENTURY ZINC MINE ATLAS HAS BEEN WON! Bret Ferris of Ferris Metals Pty Ltd, currently in Bombala drilling at Quidong, was able to tell us that Geoff would like to see the term "Kokkalukkernurker Duplex" EXPUNGED! Stephen Perkins at Northparkes was a close second - you'll get a bottle of red to share with Jerry. For those of you who didn't win - buy a copy! Corporate, Educational and Struggling Geo's Prices - very reasonable and extraordinary value for this monster volume.
NEXT MEETING - click logo for details - with a link to order copies of the book: Monday May 12th 2003 12:30pm for Lunch at Tattersalls Club SPEAKERS: Ron Manners and Trevor Sykes The Launch of Ron's new book "Never a Dull Moment"
Decrypting Martian Geology with the Columbia River Basalt Group Code
Dr Graziella Caprarelli Geological Society of Australia - NSW Division At the Annual General Meeting Wednesday, 16th April 2003, 6pm Main Theatrette - AUSTRALIAN MUSEUM
Geological Society of Australia - NSW Division
Centennial Coal CEO Bob Cameron
12.30 p.m. Thursday 3rd April 2003 - Tattersalls
The ASEG and SMEDG are pleased to support and recommend the next Victorian Institute of Earth and Planetary Sciences (VIEPS)/ Mineral Council of Australia (MCA) Geophysical Field Camp and Software Workshop, to be hosted by Monash University from 31 March - 11 April 2003. The "Field Camp and Workshop" is the third in an ongoing series of annual events developed as part of the National Geoscience Teaching Network (NGTN) initiative. Please view the attached PDF file for more information. Or, contact: Glenn Loughrey, ASEG - Secretariat PO Box 42, Everton Park QLD 4053 Telephone: 07 3855 8144 Facsimile: 07 3855 8177 secretary@aseg.org.au
Lion Selection's Story.....Lafayette Mining & Gallery Gold Thursday, 6th March 2003
THE WESTERN AUSTRALIAN NATURALISTS' CLUB AN ILLUSTRATED PUBLIC TALK ON DINOSAUR DISCOVERIES by Mark Thompson
A DINOSAUR TALE: DISCOVERING MONTANA'S NATURAL TREASURES
WEDNESDAY 12 FEBRUARY Time: 7.30 p.m. (be early) Ross Lecture Theatre in the Physics building University of Western Australia Nedlands
The proposed 2003 JORC Code What does it mean for you, the Competent Person, and others? Presentation by Norman Miskelly, OAM and Phillip Hellman with discussion from the floor
Rugby Club - Rugby Place Wednesday 12 February 2003, 5.30 for 6.00pm
MPI Mines - Managing Director Brian Phillips "MPI Mines - the IPO Hit - Gold with a Nickel Chaser " Tattersalls Club - Thursday, 6th February at 12.30 p.m.