SMEDG - OLD NOTICES ARCHIVE 2004
SMEDG-AIG-AusIMM Christmas Sydney Harbour Cruise
Friday, 17th December, 2002 12.50 p.m. from McMahons Point,1.00 p.m. Opera House - until 5 p.m. Thanks to our Sponsors...... ENCOM...ALS Chemex...Bindi's...Hellman & Schofield....International Base Metals
Click Here for Booking Formstarring Sam, Dave, Robyn, John & Paul. Early bookings $44.00 - Late bookings for only $55.00 per person. Preference will be given to nice people.
THE 2004 CRUISE WAS BOOKED OUT - GREAT TIME HAD BY ALL - THANKS AGAIN TO OUR SPONSORS
Tri Origin Minerals were seeking a Discovery Geologist

CRC-LEME PRESENTS
The Regional Regolith Symposia - Adelaide then Perth and then Canberra
Adelaide 10th to 14th November, 2004. Perth 18th to 19th November, 2004. Canberra 24th to 26th November, 2001.


St Barbara's Day
at the Spicy Island Restaurant, Tower Square, Miller Street, North Sydney Friday, 26th November at 12.15 pm This event attracted an eclectic collection of your industry's finest...... and some others Details Here, or, if you prefer to parlez Français, ou plus avec précision, lisez les Français
What's this? Enough waiting.....try Sensising "Bundaberg Mystery Craters" or click on the little image.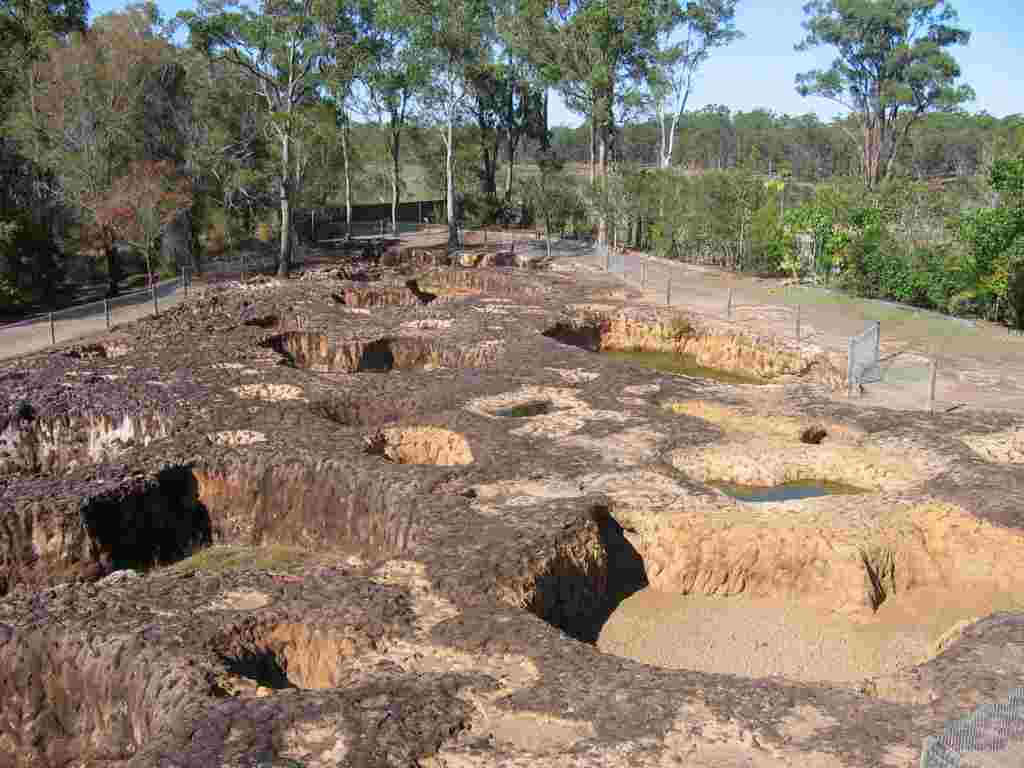 NSW Miners' and Explorers' Conference
22 resource companies presentations will cover platinum, gold, silver, copper, lead, zinc, oil, gas and coal October Monday18th and Tuesday 19th 2004 Sofitel Wentworth Hotel Program, Speakers & Registration Details - Click Here Australia is in the middle of a resources boom where the Resources Index has more than doubled the performance of the top ASX 200 shares over the last year. Here's your chance to review the activities and potential of a selection of oil and mineral companies operating in NSW. 25 speakers will be presenting Register by this Friday 8 October for the two days as an Early Bird for only $176 including lunches and refreshments. Call 9482 8833 or fax your registration to 9482 8488
FEDERAL ELECTION OCTOBER 2004 Nice One John! More of Us are Happy than Not!
Australian Geoscience Council President Mike Smith has written to the Coalition, the Labor party, the Greens and the Democrats seeking short responses on key issues for the geosciences. Given the short time frame for providing a response, a small number of key issues were selected. For the party spokesperson on resources, the AGC's questions focus on the introduction of an Australian flow-through share arrangement and tax deductibility for greenfields exploration expenditure; extending geoscience data sets over the whole of Australia; and land degradation and groundwater. For the party spokesperson on science, the AGC's questions focus on the severe shortage of science teachers and the consequent decline in effective science teaching in our schools; and the future shortage of scientific and technical skills that are essential for the future viability of Australia's resource industries. Details of the AGC approach to the politicians are shown in the attached letters: AGC on Resources Sept04 Sept04 and AGC on Science Sept04. Separate letters were sent to each politician. Responses, if any, will be communicated to SMEDG'ers via this web site. Well, hey! There weren't any........
Response by The Australian Geoscience Council to: The Australian Federal Budget - May 2004..pdf - click here
AusIMM Sydney Branch - One Day Symposium
Innovative Mineral Developments
SESSION 1 - What's New in Project Development SESSION 2 - The Leading Edge in Technical Innovation SESSION 3 - New Visions for Old Mines in a Changing World SESSION 4 - Maximising Value - a New Slant on Metal Extraction
Wednesday 6th October 2004
North Sydney at Shore's Ken and Joan Smith Auditorium
Program, Speakers & Registration
Trade Displays - Cocktails - Dinner
Registration: $250.00 & Dinner $70.00
A warm invitation is extended to SMEDG members to attend this Symposium. The one-day program will focus on new and technically interesting developments and innovations in mining projects. Lake Cowal - Favona - Pooncarrie - CSA - North Parkes - Road Trains - Open Pit Grade Control - Drill & Blast - Broken Hill - Bendigo - New Philosophy at Old Mine - Hellyer - Processes
SEG 2004: Predictive Mineral Discovery Under Cover
to be held in Perth from 27th September to 1st October 2004, will be the second in a series of biennial SEG conferences, the first being the highly successful SEG 2002 in Denver, Colorado. It will be the first major SEG "stand-alone" meeting held outside of North America.
Link to SEG - UWA Conference Site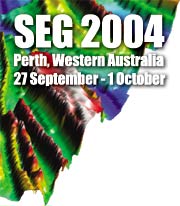 EXPLORATION NSW SEMINAR in 2004 SMEDG & Exploration NSW - DMR

4 p.m. Wednesday 8th September 2004 North Sydney Leagues Club, Kamaraigal Room 12-20 Abbott Street, Cammeray. New Products, Lachlan Orogen Synthesis, East Lachlan GIS, Woodlawn Re-visited, Broken Hill - new geophysical technology, Broken Hill - new ore fluid model & exploration highlights
Geoff Derrick's Roosevelt Geotour
A New Deal for Cu in the Mount Isa Inlier 6th to 12th September 2004
Mount Isa - Gunpowder - Mount Oxide - Kajabbi - Calton Hills - Palm Valley - Mount Cuthbert - Mount Watson - Little Eva - Roseby - Surprise - Cloncurry - Dugald River - Quamby Queen - Monakoff - Kuridala - Ernest Henry - Mary Kathleen
TACKLING SKILL SHORTAGES IN THE MINING INDUSTRY
NQEM04
Exploration & Mining in Northern Queensland - Conference 2004 Townsville, Australia 27th - 28th May 2004
NQEM04 Registration Form & Details as .pdf
Notes and other news from Kaylene
Cobar Exploration Workshop from 24th - 26th May, 2004 in Cobar SMEDG & CRC LEME with AusIMM-Cobar Branch
Details - Click here
Organisers - Sponsors - Presentations - Core Displays - Poster Sessions - Workshops
OPPORTUNITIES TO PARTICIPATE ABOUNDED - GREAT TIME HAD BY ALL!
CIM - ICM Conference Edmonton Canada May 9 - 12, 2004
Mining North What's Happening! Edmonton 2004 details as a .pdf
RIU Sydney Resources Roundup - 31 Companies Presenting Sydney Harbour Marriot Hotel, Circular Quay May 4th & 5th, 2004
SMEDG Discount Available
Conference Details and Registration Form .pdf
Better Access Tools For Important Industry Information Aert Driessen, editor of the IndMins Newsletter will give a talk on how to help ourselves to better information. VENUE: Level 5, 47 York Street, Sydney (next to Wynyard Station) *****5.30 p.m. Tuesday 16th. March for 6 p.m. presentation.***** Wines (only best vintages), beers, soft drinks and nibbles will be available for self service. ********** AIMS Members $5********** Non Members $10 ********** Come and discuss issues with friends as well as hearing from Aert's extensive experience in this field. For further information call Wendy or James at Minerals Corporation tel.02.92902400
February Letter by The Australian Geoscience Council Letter to The Treasurer, the Hon.Peter Costello MP .pdf - click here .htm - click here In summary: · Australia needs the resource industries to generate wealth; · There needs to be a more active exploration program in Australia to ensure that these industries are sustainable and remain competitive; · Two valuable reports have developed recommendations to address the issue of impediments to exploration; and · We urge the Government to act on these recommendations. David Denham - President - Australian Geoscience Council
Gnomic Exploration Services needs Mineral Exploration Geologists
Review the Gnomic Web Site for Opportunities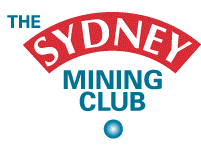 SYDNEY MINING CLUB
ASEG
Geophysical Interpretation of Potential Field Data - A Basis for Interpretation of Basin architecture & Mineral Occurrence Vladimir David Rugby Club, 5.30 p.m., Wednesday 17th March, 2004 Vlad's SMEDG Talk
SYDNEY MINING CLUB
South Australian Triumvirate
Rob Rutherford - Red Metal *** Rohan Williams - Avoca Resources *** Keith Yates - Adelaide Resources
4th March, 12.30 p.m. Tattersalls Club
MIGNS
LUNCH AT THE SAIGON PEARL VIETNAMESE RESTAURANT, 8 WEST STREET, NORTH SYDNEY 1 p.m. Friday, 27th February, 2004 Special Guest: Ros Worthington Mineral Industry Group North Sydney
February Letter by The Australian Geoscience Council Letter to The Treasurer, the Hon.Peter Costello MP
.pdf - click here .htm - click here
In summary: · Australia needs the resource industries to generate wealth; · There needs to be a more active exploration program in Australia to ensure that these industries are sustainable and remain competitive; · Two valuable reports have developed recommendations to address the issue of impediments to exploration; and · We urge the Government to act on these recommendations. David Denham - President - Australian Geoscience Council