SMEDG-AIG XMAS HARBOUR CRUISE FRIDAY 14TH DECEMBER 2007
BOOKING FORM CLICK HERE
Many thanks, once again, to David`Timms for all his organising and huge thanks to Carolyn Barnwell who put up with rudeness, impatience and far too many people incapable of filling out the simple booking form correctly. A "black list" is not out of the question - be warned! Golden Cross Resources is also thanked for providing support for David and Carolyn and all the office facilities to process the bookings.
Again proudly brought to you by The Convenor, the Hon. Rob Waring and MIGNS, a SMEDG subsidiary
Syntaphral Tectonics and Diagenesis - 44 years on
Thursday 22nd & Friday 23rd November 2007 CODES – The University of Tasmania
John Elliston's Book
The Newfoundland and Labrador Mineral Industry: Competing for Global Investment Delta St. John's Hotel and Conference Centre St. John's, Newfoundland November 01 - 03, 2007 Details - Click Here
NSW Branch of the ASEG - Student Night
Presentations by Honours students at 5:30 pm for 6:00 pm on Wednesday 17th October 2007 at The Rugby Club - Level 3, Rugby Place (near Pitt and Alfred St), Sydney CBD. Cara Danis of Macquarie University and Joshua Knight of University of Sydney will be presenting on their studies.
For more details - Click Here
SEG Gold Workshop pre-World Gold Conference Oct. 20-21, 2007 (Cairns, Australia)
Now being presented in Australia for the first time, the workshop on "Gold Deposits: Geology, New Developments, and Exploration" will take place on October 20-21, prior to the AusIMM World Gold 2007 conference in Cairns, Australia. Course registration is through the conference website and details are also listed here. Speakers include Richard Goldfarb (Orogenic gold deposits), Craig Hart (Intrusion-related gold systems), Noel White (Epithermal gold deposits), and Steve Garwin (Carlin-type gold deposits).
Kalgoorlie '07 Old Ground - New Knowledge
WMC Centre, Macdonald Street, Kalgoorlie, Western Australia 25 - 27 September 2007 Geoconferences (WA) Inc
WEBSITE
Edgeworth David Symposium 2007 CLEAN COAL TECHNOLOGIES
Debate rages about Global Warming and alternative energy, BUT Coal will be a dominant source of energy for the foreseeable future. The Edgeworth David Symposium aims to provide a forum for Informed Discussion with High Level Presentations on: Greenhouse Gas Outlook & Government Strategy, Clean Coal Mining and Waste Methane Drainage & Capture, Coal Gasification, CO2 Capture and Geosequestration, Power Generation Technologies, Future of Coal in Power, Liquid Fuels and Steel
25 September 2007 8.30am - 5.30pm at Eastern Avenue Conference Centre The University of Sydney $200, lunch provided
Registration Details
Program
Mines & Wines 2007
~as well as, also for free on the amazing SMEDG web site~
a bonus, the phenomenal geotrickcyclist Nick Sheard's Dinner Presentation .pdf (not as good as being there) and now,
Update #1: Mining Tours Booked out. Mines & Wines Conference 2007 - Be There! Update #2: Over 270 Registrants. This was a huge success -- again! This Conference is still the best value around at only $330 (earlybird) for two days of excellent, topical talks including teas, lunches and the Gourmet Feast & Wines
MINES & WINES CONFERENCE
20th - 21st September 2007 in Orange, NSW SMEDG - NSW DPI & Geological Survey - AIG "A Vintage Year for the Tasmanides"
.....and the best place to meet all the Eastern States' mineral explorers, miners and supporters. (We promised..... we delivered!)
Where to stay in Orange and surrounding Towns
MEGA SPONSOR

Hellman & Schofield
Gold Sponsor

Metals & Energy Capital Division of Macquarie Bank Ltd
Silver Sponsors



Alkane Exploration

Newmont Australia

Peak Gold Mines
BRONZE SPONSORS
ALS Chemex* - Fugro* - GHD* - Golden Cross Resources* - Geos Mining* - Tri Origin Minerals* Malachite Resources* - Oroya Mining* - Pinnacle Drilling*
Trade Displays: Hellman & Schofield - GHD - Fugro - ALS - Golden Cross - CRC LEME - Oroya - Tri Origin - NSW DPI - Brand Orange
The full program: Tuesday 18th September - Porphyry Workshop - a few places left Wednesday 19th - Cadia Valley and Copper Hill Excursions (BOOKED OUT!) then Wine Appreciation Ice-Breaker & Registration Night, Thursday 20th - Day 1 Program followed by the Conference Gala Dinner by Orange's top Chefs and featuring local foods and wines at Orange Showground Dinner Speaker: Nick Sheard "no-one will leave unoffended" by this perennially entertaining geotrickcyclist. Friday 21st - Day 2 Program and to wrap up, the post-conference drinks session Saturday 22nd - Winery Excursions around Orange.
Where to stay in Orange and surrounding Towns
Topics: The Tasmanides, the Mineral Systems, Hillgrove Au-Sb, Ballarat Au, Lockington Au, Lachlan Orogenic Gold, Lachlan Magmatic Arc, Cadia East Cu-Au, Gidginbung Volcanics, Cowal Au, Mount Carlton Au, Copper Hill Cu-Au, Woodlawn Cu-Zn-Pb, Finding Gold and Geologists, Granites, Watershed W, Conrad Ag, Glenn Innes, White Rock W, Mungana Zn-Cu-Pb-Au-Ag, Eurow Cu-Au-Ag-Zn, Mount Windsor Volcanics, Girilambone, Endeavour & Hera, Cobar in 3D, Central Victoria Au, Koonenberry Metallogenesis and the Thomson-Lachlan Seismic Project - this year's update.
We have the program and speakers all finalised and it will be as good or better than last year's - book now! Two day Conference & Dinner for you latecomers: $440 - Still great value!
ClickMines & Wines Conference 2007 - Be There!here for the rig in the vines The photograph is by Newmont geologist Jeffrey Bigelow
MINES & WINES CONFERENCE May 2006
The Presentations - Abstracts and Powerpoints are now available - Click Here
Do you want a bound, hard-copy version of the 2006 Abstracts for $15.00 incl. postage? Click here
Excellence in Mining & Exploration 2007
Connecting Industry & Investment An annual event in its fifth year incorporating the NSW Miners and Explorers' Conference 9th, 10th &11th September 2007 Hilton Hotel - Sydney
2007 Winter Harbour Cruise Friday 6th July - only $50.00
Sponsors: ALS-Chemex * GOS Drilling * Hellman & Schofield
New Frontiers - New South wales June 14th 2007 Industry Workshop at the Rugby Club followed by Exploration in the House in the Parliament House Theatrette *Complimentary but registration required
riu
Sydney Resources Round-up 8th & 9th May 2007 New Floats, New Finds, New Mines The Sofitel Wentworth Hotel
Round-up Program
Round-up Registration
SMEDG Member discount of $330 per delegate has been offered Details:Doug Bowie - Manager - Resources, Vertical Events, PO Box 1153, Subiaco WA 6904. Ph: +61 8 9388 2222, Fax: +61 8 9381 9222, Mob: +61 411 588 331,
email:
doug@verticalevents.com.au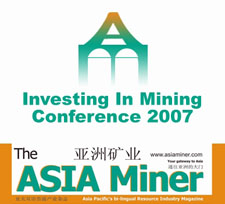 The ASIA Miner showcases Asian and Australian Resource Investment Projects in Sydney 6-8 May 2007 at Star City Casino
Play hard – Work hard
BEDG Meeting 23rd April 2007 5.30pm for 6pm, Theodore Club, Brisbane.
Speaker Peter Green - Manager Exploration, Mining and Petroleum Mines and Petroleum - Department of Mines and Energy
Visitors from Argentina
The Argentinean Federal Minister for Planning – Julio de Vido, and Jorge Mayoral, Mining Secretary of Argentina, came to Sydney and asked all interested mining industry personnel to attend their presentation. It was at the Intercontinental Hotel on Thursday 19th April at 4:00pm and set out an overview of important new issues for exploration and mining developments in Argentina. Contact CONSULATE GENERAL OF THE ARGENTINE REPUBLIC for more information
ASEG Meeting David Robson from the Geological Survey of NSW
Rugby Club, 5:30 for 6:00pm, Wednesday, 18th April 2007
David will give an update of the happenings of the Geological Survey of NSW and will include the NSW Government's New Frontiers initiative. He will also outline geophysical and geological activities that will include new interpretations, imminent surveys, planned releases and publications, and staff changes. One of the new products soon to be released will be a series of interpretation maps and accompanying notes covering specific 1:250 000 map sheets in the frontier regions of NSW. In regards to survey acquisition, two major helicopter assisted gravity surveys are about to get underway, together with stratigraphic drilling over the Thomson Orogen in the Tilpa region west of Bourke, seismic acquisition in the Rankins Springs / Griffith region and Gunnedah Basin, and several airborne magnetic and radiometric surveys in the Gunnedah Basin.
See the ASEG NSW Branch web site
Professor Ian Plimer "What They don't tell you about Climate Change"
Rugby Club, 5:30 for 6:00pm, Wednesday, 11th April 2007 AusIMM Sydney Branch
Vale - Terry Leach & Jampa Tashi 1948 - 2007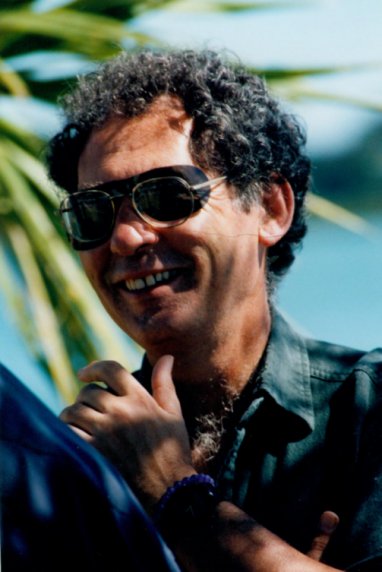 On the twenty-eight of February 2007, the world lost not only a fine geologist and petrologist, but also an outstanding human being.
The Terry Leach Scholarship
Remembrances & Reminiscences
Messages on Mail Archive