SMEDG - OLD NOTICES ARCHIVE 2010
All the best for the Season from your SMEDG Committee
THANKS TO OUR SPONSORS Hellman & Schofield *** Innov-X *** Techdrill *** Rangott Mineral Exploration *** ALS Minerals
November 16th-19th, 2010
Venue: Biological Sciences Lecture Theatre University of New England, Armidale, NSW, Australia Tectonics, Resources and Mineral Prospectivity: A celebration of 70+ years of geology at New England University College of the University of Sydney (1939) and the University of New England (1954) and the launch of the New England granites database (50 years in the making)
TVZ Field Trip: 28 November to 4 December 2010 - Geothermal & Epithermal Resources
Visit the web site below for information on an upcoming field trip to geothermal areas, volcanoes, and epithermal deposits in the North Island of New Zealand. It will be of interest to geoscientists who want to more about epithermal deposits and geothermal resources. Please contact the organiser, Stuart Simmons if you have questions. Updates will be posted on his website.
Mines & Wines 2010
FIRST NOTICE
SECOND NOTICE - FLYER
&
ENTICING PROMOTIONAL PAGE
and now, IT'S ALL HERE!
~put it in your calendar for 2010~ ~ Mudgee ~*~ September Thursday 23 - Friday 24, Geology Tour Wednesday 22nd, Wine Tour Saturday 25th ~
THE PHOTOS!
Platinum Sponsor
Metals & Energy Capital Division of Macquarie Bank Ltd
Silver Sponsors
Hellman & Schofield
BRONZE SPONSORS
Innov-X Systems
Golden Cross Resources
ALS Minerals (a Division of ALS Group)
Gold Fields
Scandium Sponsor ~ Hill End Gold
Trade Displays: Hellman & Schofield Pty Ltd ~ Innov-X Systems ~ GeoMole Pty Ltd ~ Industry and Investment NSW – Minerals Division Golden Cross Resources ~ Ultramag Geophysics ~ ALS Minerals ~ Prospectors Earth Sciences ~ Pitney Bowes RPS Aquaterra ~ Geos Mining ~ Fender Geophysics ~ Portable Analytical Solutions Posters: Gnomic Exploration Services * Gold & Copper Resources
Drinks Sponsor: Malachite Resources
Accommodation
Parklands Resort and Conference Centre
Other Accommodation in Mudgee
Mudgee Caravan & Unit Parks
Goulburn River Stone Cottages
Aeropelican now flying Sydney - Mudgee. Timetables here

The Cobar Branch of the AusIMM
invites you to The Cobar Mining Seminar 2010 "Rejuvenating Historical and Producing Operations"
6 August 2010, Cobar, New South Wales
Click here for details
Make the most of networking and professional development opportunities offered by this AusIMM seminar
SMEDG-AIG Winter Harbour Cruise Friday 9th July, 2010
Sponsors
Geos Mining
An excellent time was had by all.....
BOOKING FORM HERE
Student Discounts!
See photos from 2008 - click here
See photos from 2008 - click here
2010 SMEDG-AIG Mid-year Sydney Harbour Cruise Photos
More photos ~ and the Quoits Competition. Congratulations Garry Baglin!
~Notice of ASEG Meeting~
Dr John Bishop, Director, KUTh Energy Ltd Geophysics Adding Value: A Geothermal Example
Rugby Club Wednesday, 16th June, 2010 5:30pm for 6:00pm,
Geological Survey of NSW - Information Event for the Exploration Industry
Exploration in the House - Program Information & Registration
Location: Parliament House Theatrette, Macquarie Street, Sydney Date: Wednesday 9th June 2010 Time: 1.00 pm to 6 pm
Complimentary registration. It was, once again, a a very worthwhile event; it wouldn't be listed here otherwise. Followed by EITH2010 Info Event + Dinner
The Geological Society of Nevada invites you to attend our sixth symposium, Great Basin Evolution and Metallogeny. We strive to maintain a tradition of excellence, emphasizing descriptive accounts of ore deposits, new theories on deposit formation and innovative concepts of how to find the next district or deposit.

The Cobar Branch of the AusIMM
invites you to A Presentation by Francis Pitard
Click here for details
Tuesday, 18th May, 2010
CWEDG - Central West Exploration Discussion Group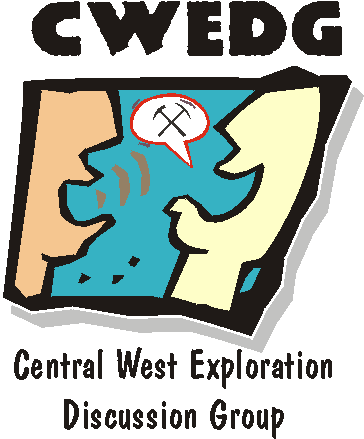 DATE - Tuesday, 4th May, 2010, in Orange TIME - 7 p.m. for 7.30 p.m SPEAKER - Steve Collins - Consultant Geophysicist, ARCTAN Proposed regional scale Gradient Array IP surveys at Orange VENUE - Cedar Room at the Duntryleague Golf Club CWEDG - Central West Exploration Discussion Group
2010 Sydney Basin Symposium
1st Circular & Call for Papers Grande Mercure, Hunter Valley Gardens, Pokolbin, 6-7 th May 2010. Initiated by the University of Newcastle in 1967 , the long-running series of symposia on Advances in the Geology of the Sydney Basin has becomea well-established focal point for discussion of research findings and other studies of academic, industrial and community interest for one of the most significant geological provinces in Australia. The 2010 symposium, organised by the Coalfield Geology Council of New South Wales in conjunction with the NSW Department of Primary Industries, with support from the AusIMM Hunter Region Branch, ACARP and the Mine Managers Association of Australia, aims to continue this role, with broad coverage of fundamental geology, coal, coal seam gas, mineral, energy and ground water resources, developments in geological technology and geological aspects of the natural and urban environment.
For further information see
2010 Sydney Basin Symposium Information
IAGOD Adelaide 2010
The International Association on the Genesis of Ore Deposits (IAGOD) has held its 13 Quadrennial Symposium for the first time Down-Under 6th to 9th April, 2010 in Adelaide, South Australia.
This was a great chance to highlight research and work on Australian ore deposits, new exploration technologies,and new prospects and discoveries.
More and better details here

The Cobar Branch of the AusIMM
invited you to "Duelling Geotechs" An evening of Geotechnical and Backfill Engineering talks
8th April, 2010
Hunter Earth Sciences Discussion Group (HEDG)
The next HEDG presentation will be in April 2010, probably at Customs House, Newcastle. HEDG is organising some presentations for a Geoscience Careers Night for third year students at the University of Newcastle on the 18th March.
Dr David Lowell
The Doyen of Porphyry Copper Geologists
Sydney Mining Club Special Event, Thursday, 18th February at 5.00pm at the Royal Automobile Club, 89 Macquarie Street,Sydney.
SMEDG/AIG Symposium 2009
New Exploration Technologies
RECENT PRACTICAL ADVANCES IN MINERAL EXPLORATION TECHNOLOGIES
CWEDG - Central West Exploration Discussion Group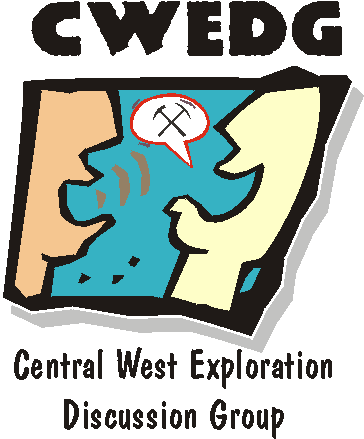 DATE - Wednesday, 10th February, 2010, in Orange TIME - 7 p.m. for 7.30 p.m SPEAKER - Mark Arundell - Consultant Geologist, IMEx Consulting Potash? What's Potash? VENUE - Cedar Room at the Duntryleague Golf Club CWEDG - Central West Exploration Discussion Group Venue Sponsored by Rangott Mineral Exploration