DATE: 8 to 11 September, 2014 VENUE: Mineral Resources Tasmania (MRT) facilities, Hobart. WHO SHOULD ATTEND: Exploration geologists, mine geologists, geotechnical staff, exploration managers, and other mining industry professionals. This intensive four-day program will provide attendees with a thorough understanding of the latest logging techniques, and how they can be used to improve geo-investigation, planning, and reduce risk, costs and uncertainty within the mining environment. The course is designed and presented by two leaders in their fields - CODES and GHD Pty Ltd. - with support and facilities being provided by MRT.
May 2014: Integrating Rock magnetic studies with Automated techniques to identify prospective Nickel Sulphide Systems in the Musgrave Ranges, SA. - by Dean Hillan (with an Introduction by James Austin) August 2014: Advantages and Limitations of Magnetic and Gravity data for Mineral Exploration Undercover - James Austin and Dean Hillan Abstract: Many classes of ore deposits (e.g., Porphyry, IOCG and Magmatic Nickel Sulphide deposits) have characteristic magnetic and or gravity and or EM signatures. However, recognition of these signatures is more difficult when deposits are undercover. Simplified rock property models were constructed of different deposit types. The physical parameters (e.g., depth and orientation) and rock property values (e.g., susceptibility, remanence and density contrast) and the effects of weathering and oxidation were varied to reflect different exploration scenarios. The resulting gravity and magnetic anomalies are presented to illustrate the advantages and limitations of magnetic and gravity methods for exploration undercover. Check ASEG web site for details.
Jeff Hedenquist, Antonio Arribas and Zhaoshan Chan will supervise a PhD project on the Far Southeast porphyry deposit (FSE, Philippines) at EGRU, James Cook University, Australia. If you are be interested in this PhD position, please open the link here or help pass on the information. FSE is the type locality that proved the genetic link between porphyry and high-sulfidation epithermal deposits (Arribas et al., 1995; Mancano and Campbell, 1995; Hedenquist et al., 1998). It is also the site where mineral vectors in lithocaps that indicate proximity to the porphyry roots were discovered (Chang et al., 2011). Recently, Gold Fields has carried out >100km of drilling at Far Southeast, providing a 3-dimensional picture of this system over 2 vertical km to -700 m elevation, 400 m below the ore body. This provides arguably a unique opportunity to examine a porphyry system from the roots of the porphyry, through the main porphyry body, up to the mineralized lithocap.
8th August 2014 from 9am (registration from 8.30am) to 5pm Rugby Club - off 31 Pitt Street, Sydney Price – $180 non-AIG attendees, $140 AIG members, $60 students and unemployed
Lindsay Gilligan and Don Nicholson organised a wake for Al Bashford Friday, 8th August, from 2pm - 6pm, Sunset Lounge, Kirribilli Ex-Services Club Please let Don Nicholson or Lindsay (0419 636 568) know if you will be going.
The AIG employment survey. The link for information is here:
Will you be a 'Voice for Mining'? Support our Industry. Sign up now!
Mid-Year SMEDG-AIG Sydney Harbour Cruise
Friday July 4th
Rosman Ferries kindly gave us their best boat, the "Proclaim", as a dry boat - where we supplied our own drinks at less than half their bar prices! And they didn't run out..... Great day had by all!

Photo links below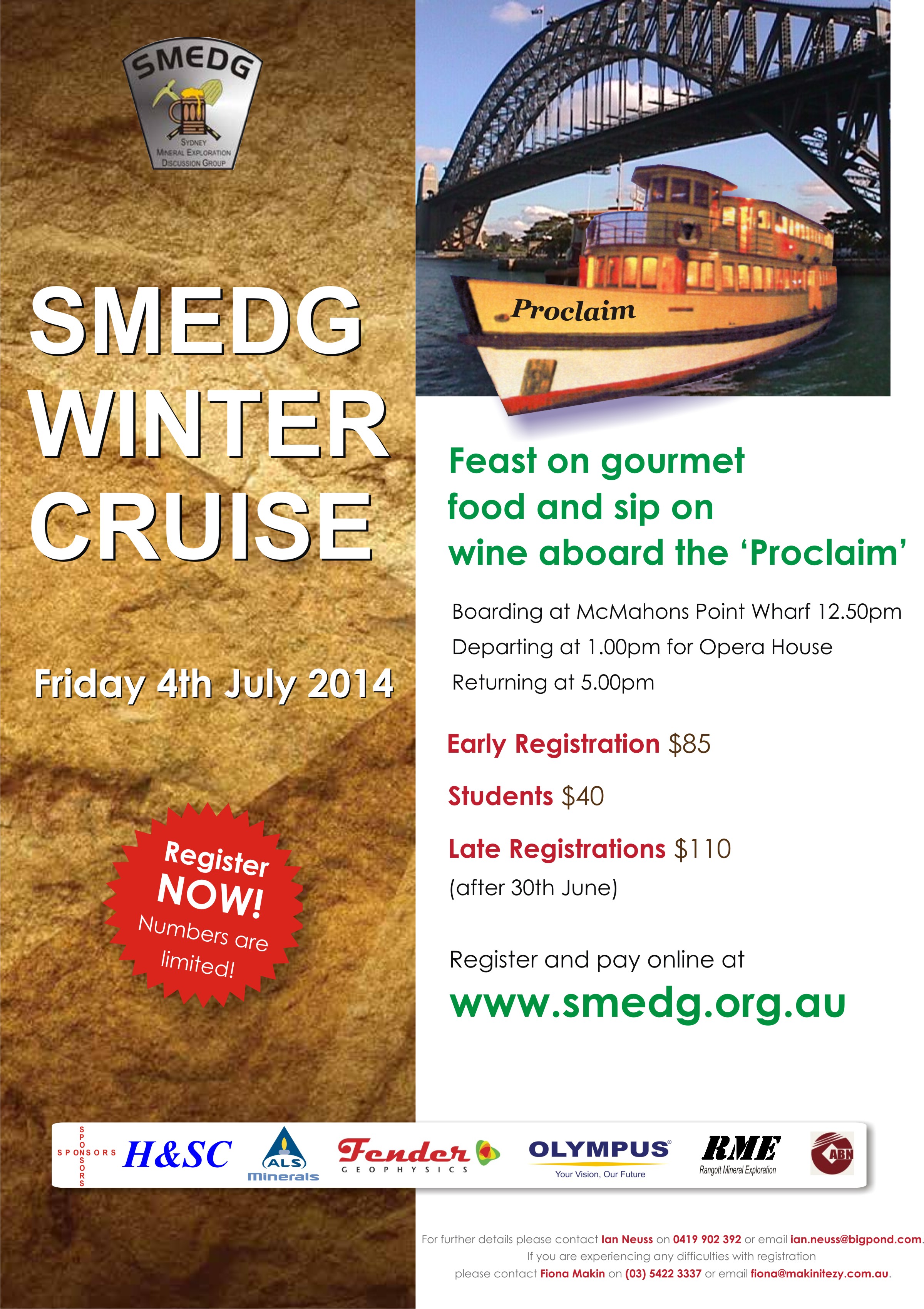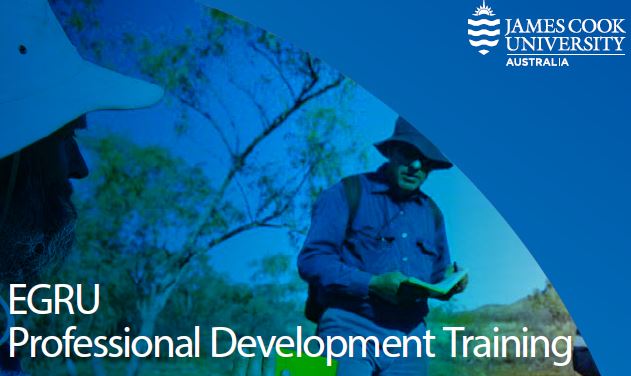 EGRU Professional Development Courses 2014
All the courses will be presented at James Cook University, School of Earth & Environmental Science, Townsville. Ore Textures and Breccias in Mineralised Systems: Porphyry Deposits and Skarn Deposits 16th – 20th June. Presenters: Dr. Roger Taylor & Dr. Zhaoshan Chang Gossans and Leached Cappings 21st June. Presenter: Dr. Roger Taylor
Registration: https://alumni.jcu.edu.au/EGRU.. Further details are in the linked brochure above and on the EGRU website www.jcu.edu.au/egru
Student Bursary Winners 2014
hanks to Wendy Corbett, SMEDG was proud to host the two Student Bursary Winners from NSW and ACT to give presentations at the SMEDG meeting on Thursday, 26th June. Alex Cherry on the "Paragenesis of gold sulphide mineralisation at the Tomingley gold deposits, NSW" & Jennifer Prichard on "The geochemistry and geochronology of cassiterite from the Mole Granite, NSW" Jennifer won the Symposium Bursary and Kerry Stevenson from Symposium presented the award to her.
Hunter Earth Sciences Discussion Group (HEDG)
Volcanoes, salt and copper: a traverse of the Atacama Desert, northern Argentina and Chile PAUL ASHLEY Petrographic and Geological Services, and Adjunct Associate Professor, Earth Sciences, University of New England Tuesday 3rd June 2014 (note the change of date from 27th May) McIntyre Theatrette, Newcastle Museum - Drinks and nibbles at the bar from 6pm, with the presentation commencing at 6.30pm
FLYER WITH DETAILS &: MAP HERE
Please RSVP to Phil Gilmore: Phil Gilmore: phil.gilmore@trade.nsw.gov.au by 2nd June 2014.

Resources Investment Symposium Broken Hill Flyer
25th to 28th May 2014 A Great Event in the Mining Industry Calendar! Register now at symposium.net.au/brokenhill or call +61 2 9299 4350
Parliament House Theatrette, Tuesday 20th and Level 47, MLC Centre, Martin Place, Wednesday 21st May, 2014 These events are free to attend but registration is required There was a dinner at Thai on 1, NSW Leagues Club, 165 Phillip Street on the 20th. Cost $25. See Registration Form
This was a 5-day course of lectures, practical sessions and a field trip, devoted to the Geology of Gold.