From: ASEG [aseg@casm.com.au]
Sent: Thursday, 11 October 2012 2:54PM
To: aseg@casm.com.au
Subject: An Obituary for Jodie Gillespie
Importance: High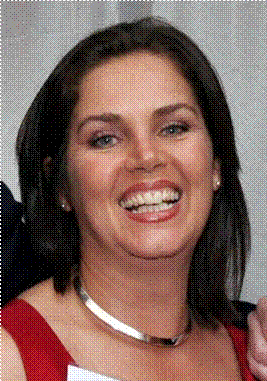 The passing of Jodie Gillespie, Business Development Manager for Fugro Geoscience division, is received with great sadness.
Everyone who knew Jodie will know that she loved to travel. She travelled frequently for both business and pleasure but tragically and so suddenly, Jodie passed away on October 5th 2012.
Jodie will be remembered as a very beautiful woman both inside and out. She had sparkling eyes, a radiant smile and possessed a loving, caring and warming spirit.
Jodie was philanthropic, a humanitarian, socially conscious and deeply concerned about the state of the world. She had great compassion and idealism. Jodie will be remembered for her friendliness and for her kind, sweet and cheerful way. She was a true egalitarian, never prejudiced nor accepting of others' social bias. Jodie was exceptionally intelligent and an amazing networker. She was always impeccably dressed, even on remote field trips. Jodie was at her best when giving, sharing and self-sacrificing for the achievement of a larger goal, never expecting anything in return.
Jodie always represented her company, her industry and herself in the most professional manner. Her honesty, integrity and her sense of responsibility was admirable. She was incredibly well rounded and worldly, comfortable mixing with people from every walk of life, from taxi drivers and hotel porters to company CEOs and government ministers. With each and every person she would be totally engaged and interested in the conversation. All who met her could not help but like her, Jodie was one of the best.
Jodie was born and grew up in Belmont on the eastern shores of Lake Macquarie, New South Wales, Australia. Many a teenage summer's day was spent on the local beaches or around the lake, an area which she treasured. Later she and her fiancé Rui Goncalves, returned to her beloved lake, purchasing property in Marks Point from where they based their international travels.
High school geography began her obsession with rocks, which stayed with her throughout her life. Many times friends have listened to detailed descriptions of how a certain cliff was formed or why a particular rock was a certain shape. Her photo albums contain numerous pictures of rock formations with the odd picture of a friend or colleague.
Jodie graduated with a B.Sc. from the University of Sydney in 1994. Her extensive geographical experience centred on oil and gas exploration as well as minerals. Earlier in her career, Jodie worked for Gerard Daniels, Paras Consulting, American Express and Geoterrex in both technical fields and management consultancy. For the past six years Jodie was Business Development Manager representing the Fugro Geoscience division. In recent years she also held the position of Chair for the International Association of Geophysical Contractors for the Asia Pacific region. Jodie played a crucial role in representing geophysical contractors and lobbying for positive change when industry issues arose with authorities and governments.
Her life was indeed cut short in this world, but Jodie was here long enough to gain the love and admiration of all those who knew her. Her beautiful nature leaves an indelible legacy in the hearts and lives of her fiancé Rui, her parents Frances and Dennis, her sister Nadeene, her brother-in-law David and the host of relatives, friends and colleagues who had the pleasure of her wonderful company. She was an outstanding individual and a true professional.
Her loss will be greatly felt throughout the exploration industry.
Jodie, rest in peace. We will all miss you.
Jodie's funeral will be held in Lake Macquarie. Messages of condolence emailed to forjodie@fugro.com before October 22nd 2012 will be presented to her family in a commemorative book.
Rather than flowers, the family suggested donations are made to the "Jodie Gillespie Memorial Fund" for the Hunter Medical Research Institute.
To make a donation, go to secure website www.hmri.net.au and click 'donate now'. (The service will be available after October 11th).
Australian Society of Exploration Geophysicists
T: 08 9427 0838 | F: 08 9427 0839
PO Box 8463, Perth Business Centre, WA 6849 | 36 Brisbane Street, Perth, WA 6000
Web: www.aseg.org.au | email: secretary@aseg.org.au
T: 08 9427 0838 | F: 08 9427 0839