KERIN MARY DONOVAN (1942-2001) – A Tribute
Kerin Donovan, during her 58 years, demonstrated that she was a most uncommon woman. We now live in an era when it is not at all unusual for women to enter the geological profession and, especially, field-based mineral exploration, but in the 1960's a female exploration geologist was a relative rarity. From an abiding interest in geology fostered by Sister Rafael at the Sacred Heart Convent in Ballarat, Kerin obtained her formal geological qualifications at the Royal Melbourne Institute of Technology whilst supporting herself financially by working in the Geology Department at the University of Melbourne. She qualified with a Diploma of Applied Geology from RMIT in 1963.
A decade of field orientated mineral exploration then commenced, firstly with BHP in Tasmania, WA and Queensland, and subsequently in the United Kingdom with Goldfields whilst her then husband, Michael Hall, pursued doctoral studies in geology at Imperial College. With her baby son, Andrew, strapped to her back, she must have been an unusual sight exploring for nickel mineralisation in the north east of Scotland and copper and molybdenum in the dales of northern England. In 1973 she returned with Michael and Andrew to Melbourne and to BHP, and continued as a field geologist seeking VMS deposits in NSW and phosphate in Queensland.
In 1976, and now a single mother, Kerin joined AMAX Exploration in Sydney. After a period as Technical Adviser to the Vice President she was transferred with her 9-year old son to Manila as the Regional Manager to open up and manage exploration activities for AMAX in the Philippines. This task just glibly rolls off the tongue, but in reality it was an exceedingly tough and initially lonely role combining technical, political, business, cultural and logistical challenges. She not only survived, in the process setting up an effective exploration group and tenement portfolio, but also established lifelong friendships, associations and an abiding commitment to the Philippines. These saw her return there with fervour, balanced by a very practical and sympathetic understanding of the country and its people, later in her career.
In 1981 she returned to Australia with AMAX when it withdrew from the Philippines and subsequently worked in a variety of assessment, acquisition and technical management roles for a diverse range of companies. These included White Industries, Technomin Australia and Regent Mining.
In 1988 Kerin turned to consulting and in 1990 joined Gilfillan Associates. Her initial task with Gilfillan Associates related to progressive updating of a major Australia-wide database. Data was entered using proprietary software into a multi-relational database. It was then extracted by area for extensive statistical analysis, interpretation with associated geology and presentation of results. While this is now fairly common place, it was then cutting edge in both the use of the relational database and the presentation.
She later undertook three major regional commodity studies involving the analysis of data from published and unpublished sources, preparation of a relational database of exploration information and of multi-layered information maps showing available physiographic features, geology, exploration results, airborne geophysics, and an interpretive analysis identifying prospective target areas. This work demanded meticulous attention to detail and good interpretive skills combining geology, geochemistry and geophysics, together with a sound knowledge of the geological and structural settings of ore deposits.
Kerin did not consider herself a leading expert in economic geology, but rather she offered broad and solidly based technical knowledge combined with excellent analytical and writing skills. These, together with her organisational ability and unusual interest in, and attention to, the necessary underlying administrative and legal requirements in such areas as joint venture negotiations and agreements, made her a very valuable professional, whether as an employee or as a consultant.
In 1994 she joined Phelps Dodge as a Senior Geologist undertaking assignments in Australia, Indonesia, Thailand, China and Tibet. In 1996, still with Phelps Dodge, she transferred to Manila in the Philippines as a Regional Manager. In that role she increasingly grasped the complex requirements involved in balancing mineral exploration and mining with indigenous peoples rights and environmental protection. In 1998 she set up in Manila as an independent consultant to foreign exploration and mining companies, seeking to encourage and facilitate a balance in the delicate and often conflicting relationships involved in mineral exploration in that country. Kerin served as a trustee on the Philippines Australian Business Council and the Philippines Mineral Exploration Association and was a member of The Australian – New Zealand Chamber of Commerce (Philippines) Inc. She was also a Fellow of The AusIMM and a Member of MICA.
In January 2000 Kerin was diagnosed with cancer which she sought to overcome with her usual thorough research, the application of both conventional and holistic interventions, and an inspiring blend of optimism and realism. In October 2000 she returned to Australia to live at Bright in Victoria and finally lost her courageous battle on 4 July 2001. A moving aspect of Kerin's struggle was the way the geoscientific community, here and in South-east Asia, not only gathered together in support, but also gained from her positive and tenacious approach to her situation.
It seems appropriate to conclude with two examples of recognition of Kerin's contribution in the Philippines in providing a unique bridge between foreign and local interests. Shortly before she died she was visited in Bright by a colleague, a Filipino attorney, who came specifically to present her with a special plaque of appreciation from the Australian New Zealand Chamber of Commerce (Philippines) Inc. in recognition of her valuable contribution in developing the Chamber's Mining Policy Paper.
Peter Walpole SJ, Director of Environmental Science for Social Change, Quezon City, recently dedicated the ongoing Ipil Mining Dialogue in Zamboanga to Kerin with the words. It is with a great sense of loss that we continue this mining dialogue and dedicate this work to her memory. Kerin was known in the mining circles for stringency in speaking plainly about levels of social and environmental accountability of mining companies. She had done much in developing a code of conduct, and recognizing the importance of consultation and building relations with communities and local government units.
Our sympathy is extended to Kerin's parents, Charles and Dolores Donovan of Bateau Bay, NSW and to her son, Andrew Hall of Bright, with our thanks for sharing her with us. From her parents Kerin inherited her good humour, beauty and intelligence and learnt solid spiritual values and ethics integrity, responsibility, respect for others and fair play. With her son life was a shared journey, from early fieldwork carrying him in a sling, to climbing mountains, camping in the Austrian Alps, living in foreign lands, sailing, skiing and ultimately, reversing the role of carer.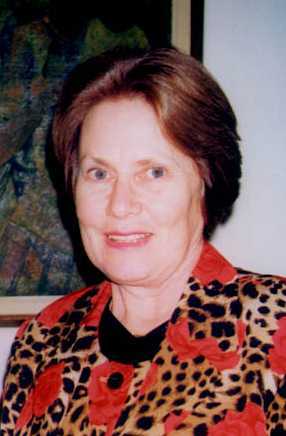 Michael Leggo, Jock Gilfillan and Felicity Woolbank