THE WESTERN AUSTRALIAN NATURALISTS' CLUB Presents
AN ILLUSTRATED PUBLIC TALK ON DINOSAUR DISCOVERIES by Mark Thompson
A DINOSAUR TALE: DISCOVERING MONTANA'S NATURAL TREASURES
Mark was a team leader for the discovery of 'Leonardo', a complete and incredible preserved duckbill dinosaur that some scientists are calling the fossil find of the century. 'Leonardo' is an extremely rare mummified dinosaur, 77 million years old. Ninety percent of its body is covered with fossilized skin, and the specimen boasts three-dimensional muscle structures, fleshy outlines – and even stomach contents!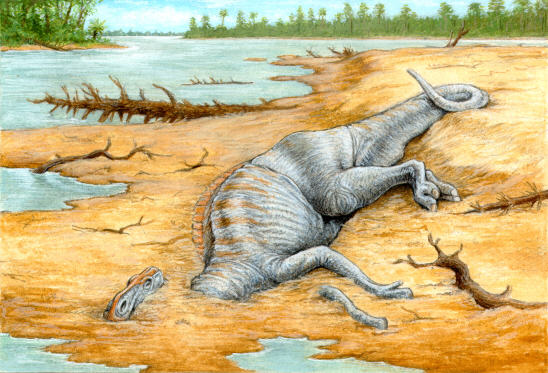 Mark's talk will include the first details and images of 'Leonardo' to be revealed in Australia. Mark will also speak about the road that led him to this incredible find, as well as the geological and environmental conditions of Montana, which make this area east of the Rocky Mountains such a treasure trove of fossils.
Mark Thompson, 35, is a geologist and prospector from Perth, who has explored for gold, diamonds and other minerals all over the world. After becoming disillusioned with commercial geology, he began searching for a way to recapture the pure thrill of exploration.
He found it in dinosaurs. A trip to the USA reignited an early passion for palaeontology, and for the past three years he has been working for a provincial museum in Montana, which is situated in the middle of some of the best recent dinosaur finds in the world.
For more information about Mark's work with the Judith River Dinosaur Institute in Montana, go to www.montanadinosaurdigs.com or contact him in Perth on 043 9970170.
WEDNESDAY 12 FEBRUARY
Time: 7.30 p.m. (be early)
Ross Lecture Theatre in the Physics building
University of Western Australia
Nedlands
(Well lit parking outside the Reid Library at car park number 3)
Admission $5.00 includes light refreshments
Thanks to Roger Hobbs for this info