The 69th Sydney Mining Club Meeting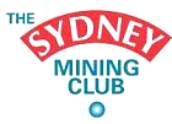 with the support of
Ausenco, GPR Dehler, HSBC & Outokumpu
Thursday, October 2nd at 12.30pm
Presents
CEO's Kim Robinson – Kagara Zinc & Michael Kiernan – Consolidated Minerals
"Kagara Zinc & Consolidated Minerals – Built From the Ground Up"
If the massive wave of consolidation that swept over us has done one thing, it is highlight the resourcefulness the ilk of Kagara Zinc and Consolidated Minerals in succeeding. Robinson and Kiernan forged their companies in the tough times with opportunities that were nearly invisible to others. Robinson brought an Eastern Goldfields operators savvy to zinc by spotting the potential to truck to a central mill at Mt Garnet and then building a lean plant ($43m) to get the cashflow rolling – before contemplating growth. Kiernan resurrected a shattered Valiant Consolidated Resources when his trucking company emerged as a major creditor.
Both were founded in the hardest of times and are now catching the eye of a market that is gaining pace by the day. Both operate in commodities traditionally the preserve of the majors. Robinsons Kagara kicked off in February producing zinc at a cash cost of US20c/lb at a time when the established producers have just about lost circulation. If his ambitions are fulfilled, Kagara could grow to a 300,000 tpa cons producer in three years and join the top 10. Kiernan's Consolidated Minerals recently gained some spice to its manganese and chromite production when the market realised its strong exposure to the booming Chinese minerals market. Then along came Andrew Forrest with a characteristically ambitious plan in his Fortesque Metal Group to build a $1.5bn railway and port. The proposal gives credence to isolated iron ore assets that will also happily find markets in China should it get lift off. The market is appreciative valuing them both at around $140-150m. They are enterprises built from the ground up. Not to be missed.
RSVP Tuesday prior – Booking Form below and 'back' on SMC home page
The Forum is held at the Tattersalls Club at 181 Elizabeth St, Sydney (adjoining the Sheraton on the Park).There has been a relaxation of dress rules at the Tattersalls Club and ties and jackets are no longer required but men must wear long trousers and a smart collared shirt.
Thank you for supporting your Sydney Mining Club and for your interest in the current affairs and issues thatdrive our industry.
The excellent lunch at Tattersalls in 2003 is $40.00 per person with complimentary drinks on arrival. Wine for the table can be ordered and settled directly with Tattersalls staff. All students remain at $10 so you should remind your studentfriends of this (Student ID to be presented at door).
Students $10, Concession Rate $30, Everyone else $40.Corporate Table bookings(10 people) $400.00 (inclGST) per table
Please note any bookings received after close of business on the Tuesday priorto the lunch will automatically be charged a late fee of $10 per person..
---
AIMEX Mining Equipment Exhibition
Register online now or call 61 2 9211 7455 for FREE entry to the largest mining equipment exhibition in Australia – AIMEX. It will be held at the Showground at Homebush, 9 – 12 September and entry is free, all you need to do is register on-line. The AusIMM Mining Risk Management Conference will run parallel with this major event.
---
---
The Sydney Mining Club – Booking Form
Fax bookings to 02 9416 2583
(Other inquires call 02 9416 0666 and ask for Sharon Johnson)
Name/s: …………….. ……………………
(PLEASE PRINT CLEARLY) (PLEASE PRINT CLEARLY)
Name on Credit Card: ……………………………….
¨Visa / ¨Master Card / ¨Amex / ¨Diners Amount: …………………
Credit Card No.: …………………
Exp Date: ……………
Signature: ………………..
Phone No: ………………..
E-mail Address: ………………………This booking form can be used as a receipt for tax purposes.
AusIMM ABN 59 836 002 494
RSVP BY 5pm, Tuesday prior to Meeting
Note: late bookings $10 extra!!