The Sydney Mining Club NOTICE OF LUNCHEON MEETING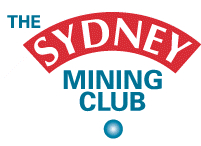 The 50th Sydney Mining Club Forum and NM Rothschild & Sons
Presents a forum with a guest out of Africa
Kumba Resources CEO – Con Fauconnier
"Iscor to Kumba, the Amazing South African Transformation"
Tattersalls Club, February 7th at 12.30 p.m.
Con Fauconnier's challenge was immense. In 1996 he started the long journey to take the giant mining arm of the parastatal and slightly moth-eaten miner and steel producer Iscor, and transform it into something radically different. Profitability had to be reintroduced, bundles of mega-assets had to be re-bundled and in recognition of the imperatives of the new South Africa of which it was a vital organ, Black Economic Empowerment had to become part of its essence.
Last year was the watershed. Iscor unbundled into separate mining and steel companies and in November, Kumba Resources was listed at 28 Rand a share, representing a considerable interim victory for Con, the chief steward of this massive rebuild. What is Kumba? With a market capitalisation of just over R9 billion (A$1,5 billion) is now a pure miner of iron ore (56% of revenue), coal (22%), base metals (17%) and mineral sands (5%). Its Sishen mine in Northern Cape Province is the world's largest producer of lump iron ore. Kumba's zinc refinery is one of the lowest cost in the world with its own Namibian source of concentrates. With S. African Government risk backing Kumba will now expand into the Congo and other African nations. Australian-listed Ticor (46.5%) is tagged as its world mineral sands builder and later this year, in conjunction with Hancock Prospecting, Kumba will roll out its plans for the WA greenfields iron ore deposit, Hope Downs. Kumba is going to be part of life in the Australian industry. This is Con Fauconnier's first Australian outing since the float. Despite the ravaging metal price downturns, Kumba has hit all of its marks simultaneously. A mining engineer and a native of the Northern Province, Cons easy going style and sense of humour have kept him on track through the heat – from fighting fires in mines in his early years to fighting fires in the corporate world. Not to be missed! Book now!
AusIMM students $10, AusIMM, AIG & SMEDG members $30, non-members $35.
NOTE :LATE BOOKINGS $10 EXTRA!!!
The Tattersalls Club is at 181 Elizabeth St. Ties and Jackets no longer required.
Thank you for supporting your Sydney Mining Club and for your interest in the current affairs and issues that drive our industry.
Booking Information for 7th February 2002 Fax bookings to 02 9416 2583 E-mail to: ausimm@lec.net.au
(Other inquires call 02 9416 0666 and ask for Sharon Johnson)
RECEIPT FOR SYDNEY MINING CLUB FORUM ABN 59 836 002 494
Name/s: ——————————–(PLEASE PRINT CLEARLY)
Name on Credit Card: —————————————–
___Visa ___ Master Card ___ Amex ___ Diners Amount: —————–
Credit Card No.: ——————– Exp Date: ———————-
Receipt required: ——— Name/Company name on receipt: ——————-
Signature: —————– Phone No: —————.
E-mail Address: —————————..
____ AusIMM, SMEDG, AIG Member $30 _____ Non Member $35 _____ AusIMM Student $10 This booking form can be used as a receipt for tax purposes. RSVP BY 5pm, Monday 1st February 2002
Note : late bookings $10 extra!!
---
Other Talks including those by Geoffrey Blainey, Ray Evans, Dick Zandee and Paul Gilding. and Trevor Sykes.