The Sydney Mining Club
NOTICE OF LUNCHEON MEETING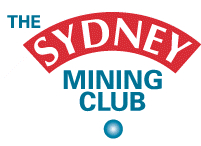 The 46th Sydney Mining Club Forum
and NM Rothschild & Sons
September 6th at 12.30 p.m.
Presents
Sons of Gwalia MD Mark Cutifani
"Sons of Gwalia – What makes this
WA Growth Machine Tick?" PowerPoint Presentation
Sons of Gwalia Ltd is on roll. On the back of freshly launched $206m takeover of PacMin, the Son-of-Lalor himself is coming over to give The Club an exclusive SOG story. It is fast emerging as a powerful diversified mining company with a new dynamic. SOG has grown earnings tenfold in a decade, kept dividends flowing and just posted its ninth consecutive annual profit increase to $58.3m. This lone ranger has a fascinating high-tech commodity spread and a near-monopoly of the category of mid-range diversified miner. Its cross-commodity aspirations will be bolstered by the takeover which should painlessly deliver it the Carosue Dam and Tarmoola mines, and push gold production over 650,000 Oz a year. More cash-flow from gold, a bigger balance sheet and the power to expand in other commodities. Why don't more gold companies think like this?
The company produces gold, tantalum, lithium, tin and has kicked off its Wemen rutile and zircon sands mine (50%) in Victoria's Murray Basin (and nabbed 19.9% in booming exploration hopeful BeMax). Darling-of-the-market tantalum is mostly used in capacitors and increasingly in specialty alloys and the telecommunications industry. Against its growth in gold strength, SOG will now put $100m into doubling its tantalum production, a move that is a stand-out example of the strengths of diversification. Using gold to build its production of the exotic minerals that feed technology. With the middle stories gutted by a wave of major mergers, the interesting and dividend-yielding growth of SOG is attractive to mums-and-dads and institutions alike. The obvious sensitivity SOG has (particularly to a media that often doesn't understand hedging), is the USD$375m it must have available to satisfy foreign exchange contracts in the coming years. Mark Cutifani will give us special insights into the full story of this WA growth machine. Not to be missed!
AusIMM students $10, AusIMM, AIG & SMEDG members $30, non-members $35.
NOTE: LATE BOOKINGS $10 EXTRA!!!
The Tattersalls Club is at 181 Elizabeth St. Ties and Jackets no longer required.
Thank you for supporting your Sydney Mining Club and for your interest in the current affairs and issues that drive our industry.
Booking Information for 6th September Fax bookings to 02 9416 2583 E-mail to: ausimm@lec.net.au
(Other inquires call 02 9416 0666 and ask for Sharon Johnson)
Name/s: …………….. ………………….
(PLEASE PRINT CLEARLY) (PLEASE PRINT CLEARLY)
Name on Credit Card: ………………………..
¨ Visa / ¨ Master Card / ¨ Amex / ¨ Diners Amount: ……………………..
Credit Card No.: ……………………….. Exp Date: …………..
Signature: ……………….. Phone No: ……………
E-mail Address: …………………
____ AusIMM, SMEDG, AIG Member $30 _____ Non Member $35 _____ AusIMM Student $10 RSVP BY 5pm, Monday 3rd September
Note: late bookings $10 extra!! The Tattersalls Club is at 181 Elizabeth Street Sydney adjoining the Sheraton on the Park. There has been a relaxation of dress rules at the Tattersalls and ties and jackets are no longer required (but do wear the rest).
---
Other Talks including those by Geoffrey Blainey, Ray Evans, Dick Zandee and Paul Gilding. and Trevor Sykes.