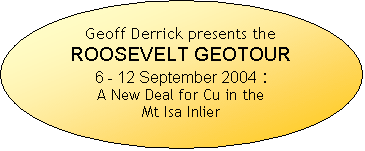 REGISTRATION FORM and Detailed Program information
PROGRAM:
Day 1 Monday 6 Sept : Assemble Mt Isa.flights from Brisbane depart Bne 8.55am, arrive Mt Isa 11.30am.Participants met at airport.Local geology and/or afternoon geological traverse east along highway, covering basement geology and cover relationships. Overnight Abacus Motel (Twin share)
Day 2 Tuesday 7 Sept:Mt Isa to Gunpowder and Mt Oxide – classic geology of the western succession, with emphasis on carbonate platform sequences (McNamara Group), Isa Group, Eastern Creek Volcanics and Growth Faulting;some sequence stratigraphy, and comparison of the carbonate platform environment with the deeper water Mt Isa Group;examine aspects of Mt Oxide Cu, and aspects of mineralisation at the Mt Gordon (Gunpowder, Esperanza) operations of Aditya Birla.Return to Mt Isa; overnight Abacus Motel Mt Isa
Day 3 Wednesday 8 Sept :Visit Xstrata early am overview of cu and Black Star gossans. Traverse across the Inlier in the north, Mt Isa to Kajabbi via Calton Hills and Palm Valley;regional geology, basement and cover sequences of both western and eastern succession. Excellent basaltic breccias, Mt Isa Group, Ewen Block basement and unconformity with cover sequence 2, entry into Kalkadoon basement and 1860Ma volcs, plus high-grade metamorphic granofels of 1750Ma Corella Fmn cover sequence with extensive scapolitisation. Onight Kajabbi hotel
Day 4 Thursday 9 Sept :Kajabbi district.Inspect operations and geology at Mt Cuthbert and Mt Watson area (Matrix); pm:TO BE CONFIRMED: Examine aspects of Little Eva and other Roseby geology and mineralisation(Universal Resources, Bolnisi Gold). Examine Surprise Cu mine. Overnight Kajabbi hotel
Day 5 Friday 10 Sept :Kajabbi to Cloncurry:TO BE CONFIRMED: Examine Dugald River lode of Zinifex, and possibly areas of Blackard Creek Roseby Cu project (Universal-Bolnisi);travel to Quamby, see Quamby Queen quarry and spectacular amphibole-cpx-calcite vein fill and breccias in high grade calc-sil granofels; mid-pm: arrive Cloncurry and visit Monakoff deposit (EXCO) Overnight Leichhardt Motel, Cloncurry
Day 6: Saturday 11 Sept : Cloncurry to Kuridala. TO BE CONFIRMED: Examine core and discussions with EXCO Resourcese re Mt Margaret and Great Australia project.Travel to Kuridala area ironstones and carbonate replacement, banded iron fmn of Overhang Jaspilite, aspects of Wimberu Granite and spectacular granite-hosted hematitic breccias. Overnight Leichhardt Hotel, Cloncurry
Day 7 Sunday 12 Sept :: Inspect Ernest Henry operations am.; travel Cloncurry to Mt Isa via Mary Kathleen – extensive examination of some of the most spectacular high grade metamorphic, metasomatic and skarn assemblages known in Australia, plus open cut geology possibly, depending on safety aspects. Final stops along highway enroute to Mt Isa, to close off the highway traverse of the first day.
Arrive Mt Isa 4pm in time for departure 6pm for Brisbane;arrive Brisbane 8.05pm, possibly in time for further connections to south.Some may wish to stay overnight at Abacus Motel, and depart Qantas Monday 30th August at 12 noon. for Brisbane
REGISTRATION FORM Roosevelt Geotour, Mt Isa Inlier Cost $1950 pp*

I/We wish to reserve a place on the Roosevelt Geotour, 6-12 September 2004

Name (s):

Type details here

Address

Type details here

Phone/Fax/email contacts

Return this Word document by email, fax or post to G.M.Derrick and Associates, PO Box 184 Corinda Q 4075;email: geoffd@powerup.com.au; Phone 07 3379 2555 (w); Fax 07 3379 2375

Registrants will be invoiced on receipt of registration form; full refunds available up to August 27th 2004; thereafter a cancellation fee of $300 shall apply to Sept.3, 2004 .For Registered no shows as at 6 Sept., a cancellation fee of $600 shall apply.

* $150 discounts available for 2nd (and more) registrant(s) from the same company.