P A U L R I D D E L L
PAUL AND I WERE CLOSE
FRIENDS AND ASSOCIATES IN A REMARKABLY
COLLEGIAL AND SUCCESSFUL MINERALS GROUP IN GETTY OIL
COMPANY.
I FIRST MET HIM AT A SMALL
AMERICAN MINING CONGRESS LUNCH HERE IN SALT
LAKE CITY.
I LIKED AND REMEMBERED WHAT I SAW, AND SO, ON
A SUNDAY IN APRIL 1967, PAUL AND I
CONDUCTED AN "INTERVIEW" ON THE ALTA SLOPES FOR A MANAGER'S JOB WITH THE NEW
GETTY MINERALS GROUP. AT THE END OF AN EXHILARATING DAY, IT WAS CLEAR TO ME
THAT PAUL WAS AN EXCEPTIONALLY INTELLIGENT, WARM, INTERESTED AND STREET-SMART
HUMAN BEING. I KNEW OF PAUL'S PROFESSIONAL BACKGROUND AND SO THE "INTERVIEW"
WAS SOLELY TO SEE WHAT KIND OF GUY PAUL WAS, AND, IMPORTANTLY, IF I LIKED HIM,
WHICH I DID.
I HAD REMEMBERED SIR ERNEST
OPPENHEIMER'S ADMONITION: "I ONLY DEAL WITH PEOPLE I LIKE"…WE CHUCKLED MANY TIMES
ABOUT THAT DAY..
PAUL DID NOT DISAPPOINT! HE BUILT UP AND RAN THE COMPETENT AND
CONVIVIAL SALT LAKE GROUP IN A HIGHLY PROFESSIONAL
WAY. HE WAS WELL
RESPECTED AND WARMLY REGARDED LOCALLY AND IN THE
WIDER
PROFESSIONAL AND BUSINESS
COMMUNITY.
FROM SALT LAKE
PAUL WENT ON TO LEAD GETTY'S
AUSTRALIAN EXPLORATION GROUP IN SYDNEY
AND IN THE WORDS OF KIM STANTON-COOK, ONE OF PAUL'S AUSTRALIAN GEOLOGISTS,
"PAUL WAS A CHAMPION HUMAN BEING WITH A CAPACITY TO ENGENDER LOYALTY THAT WAS
QUITE EXTRAORDINARY. HE WAS CAPABLE, CARING, AND WARM. WE WILL CHERISH OUR
MEMORIES OF PAUL AND JACKIE
– A GREAT TEAM."
PAUL'S
QUIET AND GENTLE DEMEANOR HID A DISCIPLINED, RIGOROUS. APPROACH TO LIFE AND HIS
PROFESSION. HE WAS NO PUSHOVER FOR THE TROOPS. IN THE WORDS OF BILL PENNELL,
NOW MANAGER OF RTZ'S NON-METALLIC MINERALS GROUP: "I'LL NEVER FORGET, AND HAVE
CONTINUED TO CHERISH (IN HINDSIGHT), PAUL RETURNING MY FIRST GEOLOGIC REPORT
WITH THE SINGLE STATEMENT, 'UNACCEPTABLE.'" BILL WENT ON TO EMPHASIZE THE
IMPORTANT ROLE PAUL PLAYED IN THE ADVANCEMENT OF HIS CAREER.
AS YOU
KNOW, PAUL WAS A PILOT – HE FLEW P-38'S, LUCKY STIFF! PILOTS HAVE QUALITIES NOT
FOUND IN NORMAL HUMANS. THEY HAVE THE "RIGHT
STUFF" AND PAUL HAD IT IN ABUNDANCE!
FINALLY, ON A VERY PERSONAL NOTE. PAUL WAS THE KINDEST PERSON
I'VE EVER KNOWN.
AND SO, WE
COMMEMORATE YOU WITH THE VENERABLE GERMAN MINER'S SALUTATION: "GLUECK AUF" DEAR FRIEND.

Siegfried
Muessig
Salt Lake City
August 7, 2003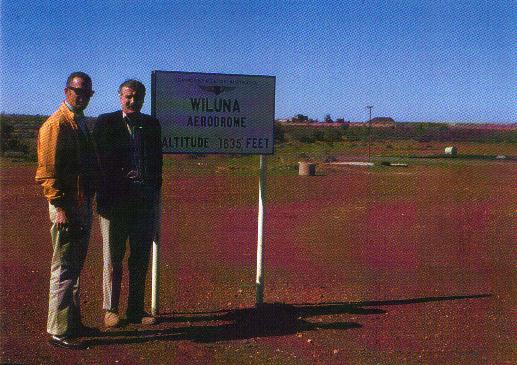 Paul and Sig at Wiluna Airstrip, Western Australia